| | |
| --- | --- |
| | Thanh trùng |
| | |
| | Mã sản phẩm: |
| | |
| | Flexitherm™ is an automatic pasteurization machine for beer pasteurization. Flexitherm™ uses a pasteurization method that eliminates microbiological spoilage, achieves the right pasteurization temperature and preserves the quality and shelf life of beer and other carbonated drinks over a variable flow range. This pasteurization method is tailored to provide optimal, efficient thermal treatment of beer to be sent to aseptic filling systems. |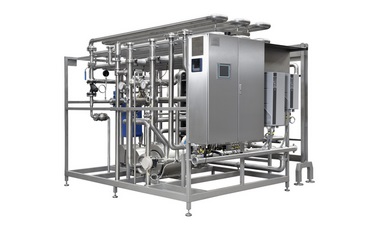 Reduce microbiological spoilage and preserve beer quality
Using the Flexitherm™ module for pasteurization of beer ensures a low hold-up volume in the PHE for minimum beer loss. Low water and energy consumption save further on beer, while the glue free clip-on gaskets save on time and resources. The well-structured PLC software is easily integrated into an automated control system.
- Reliable pasteurization units (PU) control system for stable product treatment (PU variations within +/- 10% of target level during constant operation
- Minimum site work as the module is self-contained and pre-assembled with automatic control
- Designed for CIP, the sanitary and compact module requires low maintenance, minimizing downtime
- Effective energy recovery up to 95%
- State-of-the-art automated control system featuring process continuously refined control refinements.
Flexitherm™ Mini
Designed especially for craft brewers, Flexitherm™ Mini lets you save several recipes in the same unit with individual settings for different craft beers.
Specification: Capacity: 5-50 hl/h (3 different modules)
How it works
Alfa Laval Plate Heat Exchanger for beer pasterurization
FLEXITHERM is a plate heat exchanger (PHE): A system for pasterurization of beer which eliminates or reduces the number of live micro-organisms in the product. It reduces microbiological spoilage and improves microbiological stability and increases product shelf life.
Achieving the right pasteurization temperature with Flexitherm™
Flexitherm™ achieves the required pasteurization temperature through a combination of heat and holding time. Cold, unpasteurized beer is heated in the PHE to the desirable pasteurization temperature in two steps. Automatic adjustment of FLEXITHERM flow to cater for variations in filling machine demand. Avoid product recirculation and risk of over pasteurization.
Product leaflets: